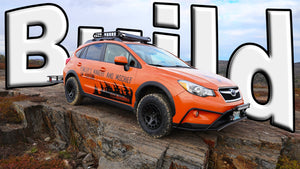 Makery and Mischief Adventure Mobile - Subaru XV Crosstrek
Do you know Zachary Fowler of Alone Season 3 (Winner of History Channel's Alone season 3) ? He is a real survival guy !
And guess what ... he prepared an awesome Subaru Crosstrek LP Aventure edition for his next adventures ...
Modifications: 
Lift kit: 1.5" LP Aventure
Jack Spacer: LP Aventure Jack Spacer
Bumper guard: LP Aventure (big model) + optional front plate
Skid plates: LP Aventure front skid plate + LP Aventure skid plate for the CVT + LP Aventure diff. skid plate
Wheels: LP Aventure Wheels LP-5 15x7 Offset 15 - Matte black
Tires: BF Goodrich All-Terrain TA KO2 215/75/15
Accessories: LED Lights bars, roof rack, hitch, rear basket and seat covers

Video:
Pictures: 
Follow this guys on;

YouTube: https://www.youtube.com/channel/UC2h_ncHoP2v6OO_zFsMuOPQ
---