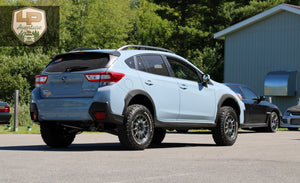 2018 Subaru Crosstrek - lift kit - tires & wheels
We received our first Crosstrek 2018 today.
Many changes have been made to the chassis, suspension, rear subframe, sway bars and much more ..

We took the opportunity to do some tests.
We installed a LP Aventure lift kit (prototype) and we tried a few combinations of wheels and tires
Good news ... the 2018 have more space for bigger tires.
Here are some combinations of tires and wheels.
Be among the first to get their hands on the LP Aventure lift kit for the 2018 Subaru Crosstrek.
---