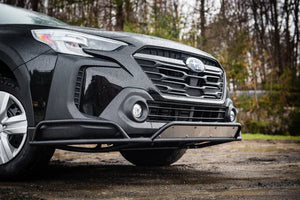 New LP Aventure PREMIUM bumper guard for the Outback 2023 / Nouveau protège pare-chocs LP Aventure PREMIUM pour Outback 2023
If you are a fan of the Subaru Outback, you will be thrilled to hear that LP Aventure has released a new premium bumper guard for the Outback 2023 model. This bumper guard is designed to protect your vehicle from rocks, debris, and other obstacles that you may encounter on your off-road adventures. It also gives your Outback 2023 a rugged and aggressive look that will make you stand out from the crowd.

The LP Aventure bumper guard is made of high-quality steel (DOM tubes) for durability. It features a front plate that covers the lower part of the bumper. It also has four integrated light tabs that allow you to mount additional lights for better visibility at night. The bumper guard is easy to install and does not require any drilling or cutting. It is available in black or bare (unpainted) options.
You can order yours today from LP Aventure's website or from one of our authorized dealers. Don't miss this opportunity to upgrade your new Outback 2023 with this amazing accessory that will enhance its performance and appearance.
Complete collection for the Outback 2023 :
https://lpaventure.ca/collections/outback-2023
-----------------------------
Si vous êtes un fan de la Subaru Outback, vous serez ravi d'apprendre que LP Aventure a lancé un nouveau protège pare-chocs haut de gamme pour le modèle Outback 2023. Ce produit est conçu pour protéger votre véhicule des roches, des débris et d'autres obstacles que vous pourriez rencontrer lors de vos aventures hors route. Il donne également à votre Outback 2023 un look robuste et agressif qui vous fera démarquer des autres!

Le ''bumper guard'' LP Aventure est fait d'acier de haute qualité (tubes DOM) pour la durabilité. Il dispose d'une plaque avant qui couvre la partie inférieure du bumper guard. Il dispose également de quatre onglets d'éclairage intégrés qui vous permettent de monter des lumières supplémentaires pour une meilleure visibilité la nuit. Le produit est facile à installer et ne nécessite aucun perçage ou coupe. Il est disponible en options noir ou non-peint.
Vous pouvez commander le vôtre dès aujourd'hui sur le site Web de LP Aventure ou chez l'un de nos concessionnaires autorisés. Ne manquez pas cette occasion de mettre à niveau votre nouvel Outback 2023 avec cet incroyable accessoire qui améliorera ses performances et son apparence.
 
Collection complète du Outback 2023 :
---