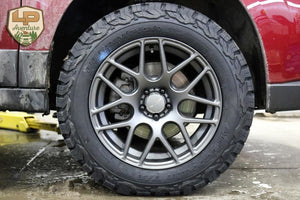 New tire size available for the 2010-2014 Outback.
We have asked our BF Goodrich tire supplier, to make available an all-terrain KO2 tire in 225/65/17. (This tire was not available before in Canada)
It is now possible to put all-terrain KO2 tires on your 2010-2014 Subaru Outback without modifications.
Here are some photos:
Front: 
Rear:
This tire size works great on rims between 6 and 8 inches wide.
The car on the pictures is equipped with RTX ENVY wheels 17 "x7.5" with an offset of 40. 
---