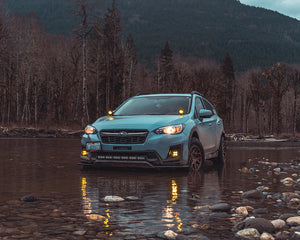 Ready for an adventure in the great outdoors? / Êtes-vous prêt pour une aventure au grand air ?
(version française plus bas)
Are you ready for an adventure in the great outdoors? Do you love exploring new places and enjoying nature? If you answered yes, then you need to check out this guide with the greatest tips for a trip in the trails with a Subaru vehicle... and of course equipped with our products! LP Aventure is there to make your trip easier and safer, this is our mission!
Subaru vehicles are designed to handle any terrain and weather conditions, so you can have fun and stay safe on your journey. Whether you have a Forester, an Outback, a Crosstrek, or an Ascent, you can customize your Subaru to suit your needs and preferences. Here are some of the best tips to make your trip unforgettable:
- Plan ahead. Before you hit the road, make sure you have a map of the trails you want to visit, a list of emergency contacts, and enough supplies for your trip. You should also check the weather forecast and the road conditions to avoid any surprises. Don't forget to pack some snacks, water, sunscreen, and a first-aid kit for yourself and your passengers.
- Choose the right accessories. Depending on the type and length of your trip, you may want to add some extra features to your Subaru to enhance your comfort and performance. For example, you can install a roof rack or a cargo carrier to store your gear, a bike rack or a kayak carrier to bring your hobbies along, or a trailer hitch to tow a camper or a boat. You can also upgrade your tires, suspension, brakes, or lights to improve your handling and visibility on the trails and as you know LP Aventure specialized in those upgrades!
- Follow the rules. When you're on the trails, be respectful of other drivers, hikers, bikers, and wildlife. Follow the speed limit and the signs, stay on designated paths, and don't litter or damage the environment. You should also be aware of any local regulations or restrictions that may apply to your trip. For example, some trails may require a permit or a fee, or may have seasonal closures or limitations.
- Have fun! The most important tip for a trip in the trails with a Subaru vehicle is to enjoy yourself and make memories that will last a lifetime. You can take photos and videos of your adventure, play games and music in your car, or stop by scenic spots and attractions along the way. You can also challenge yourself and try new things, such as off-roading, camping, fishing, or hiking. Whatever you do, make sure you have fun and appreciate the beauty of nature.
With these tips in mind, you're ready to embark on an amazing trip in the trails with a Subaru vehicle. So what are you waiting for? Grab your keys, buckle up, and let's go!
Make sure to send us your best pictures or videos! We love to share our customers experiences!
-------
Êtes-vous prêt pour une aventure au grand air ? Vous aimez découvrir de nouveaux endroits et profiter de la nature ? Si vous avez répondu oui, alors vous devez consulter ce guide avec les meilleurs conseils pour un voyage dans les sentiers avec un véhicule Subaru... et bien sûr équipé de nos produits ! LP Aventure est là pour rendre votre voyage plus facile et plus sûr, c'est notre mission !

Les véhicules Subaru sont conçus pour affronter tous les terrains et toutes les conditions météorologiques, afin que vous puissiez vous amuser et rester en sécurité pendant votre voyage. Que vous ayez un Forester, un Outback, un Crosstrek ou un Ascent, vous pouvez personnaliser votre Subaru selon vos besoins et vos préférences. Voici quelques-uns des meilleurs conseils pour rendre votre voyage inoubliable :

- Planifier à l'avance. Avant de prendre la route, assurez-vous d'avoir une carte des sentiers que vous souhaitez visiter, une liste de contacts d'urgence et suffisamment de fournitures pour votre voyage. Vous devriez également vérifier les prévisions météorologiques et les conditions routières pour éviter toute surprise. N'oubliez pas d'emporter des collations, de l'eau, de la crème solaire et une trousse de premiers soins pour vous et vos passagers.

- Choisissez les bons accessoires. Selon le type et la durée de votre voyage, vous voudrez peut-être ajouter des fonctionnalités supplémentaires à votre Subaru pour améliorer votre confort et vos performances. Par exemple, vous pouvez installer une galerie de toit ou un porte-bagages pour ranger votre équipement, un porte-vélos ou un porte-kayak pour emmener vos passe-temps, ou encore un attelage de remorque pour tracter un camping-car ou un bateau. Vous pouvez également améliorer vos pneus, votre suspension, vos freins ou vos feux pour améliorer votre maniabilité et votre visibilité sur les sentiers et comme vous le savez, LP Aventure s'est spécialisé dans ces améliorations !

- Suis les règles. Lorsque vous êtes sur les sentiers, soyez respectueux des autres conducteurs, des randonneurs, des cyclistes et de la faune. Respectez la limite de vitesse et les panneaux, restez sur les chemins désignés et ne jetez pas de déchets ou n'endommagez pas l'environnement. Vous devez également connaître les réglementations ou restrictions locales pouvant s'appliquer à votre voyage. Par exemple, certains sentiers peuvent nécessiter un permis ou des frais, ou peuvent avoir des fermetures ou des limitations saisonnières.

- Amusez-vous! Le conseil le plus important pour un voyage dans les sentiers avec un véhicule Subaru est de vous amuser et de créer des souvenirs qui dureront toute une vie. Vous pouvez prendre des photos et des vidéos de votre aventure, jouer à des jeux et écouter de la musique dans votre voiture, ou vous arrêter à des sites pittoresques et à des attractions en cours de route. Vous pouvez également vous mettre au défi et essayer de nouvelles choses, comme le tout-terrain, le camping, la pêche ou la randonnée. Quoi que vous fassiez, assurez-vous de vous amuser et d'apprécier la beauté de la nature.

Avec ces conseils à l'esprit, vous êtes prêt à embarquer pour un incroyable voyage dans les sentiers avec un véhicule Subaru. Alors qu'est-ce que tu attends? Prenez vos clés, attachez votre ceinture et c'est parti !

Assurez-vous de nous envoyer vos meilleures photos ou vidéos! Nous aimons partager les expériences de nos clients !
---